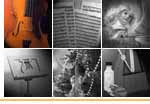 Interactive Violin Fingerboard
Touch or roll over a letter on the violin fingerboard, and an image of the correct
violin finger placement and notation for that violin note will appear on the right.
Click or touch letters to hear sound. Low 4th finger and all accidentals not shown.
© Copyright 2013 RK Deverich. U.S. Patented. All rights reserved.